Outline of the LHC
Outline of the LHC
Aims
Our purpose in forming this League is to contribute to the realization of eternal world peace so desired for the future of mankind by all people everywhere; an organization which will deepen mutual understanding by transcending national boundaries and building on the common foundation of historical cities to strengthen affiliations between cities. Our aim is to make use of this coming together of cities for the World conference of Historical Cities in order to also establish a forum enabling further exchange between the participating cities; not only for the period during the conference, but on an ordinary, everyday basis as well; and not merely with respect to issues such as government, citizens' lifestyles, and so forth.
The League also aims to contribute to the further development of each historical city.
Background
The City of Kyoto proposed the World Conference of Historical Cities in the hope of an exchange of precious experience and knowledge acquired by each of the Historical cities and exploring the roles which should be played by cities to encourage the well-being of human race and the enrichment of its culture as we head towards the 21st century.
In 1987, the first Conference was held in Kyoto.
In order to continue holding the conference and promote exchange between the participating cities, the World Conference of Historical Cities Council was established.
Then the second Conference was held in Florence in 1988, and the third conference was held in Barcelona and Girona in 1991.
On the occasion of the 4th World Conference of Historical Cities, held again in Kyoto in 1994, in order to further strengthen the foundation of the World Conference of Historical Cities it was decided to reorganize and develop the existing Council to form an expanded League of Historical Cities with new member cities.
The League was established with the unanimous approval of all participants.
Symbol Mark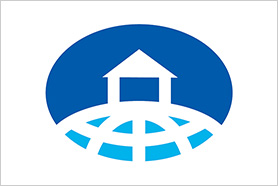 The logo for the League of Historical Cities was selected from 1,028 works from all over the world at General Assembly in Cracow in May, 1998.
It was designed by Mr. Nobuyoshi Azuma (Kitakyushu City, Japan), who explains on its concept as follows:
The house represents the foundation of a city. I have placed it as a cap, that stands for historical cities, on top of the globe which signifies the whole world. The logo symbolizes the realization of world peace. I made it as simple as possible so that many people can recognize it.